Stone Angelina
.: Click To Enter :.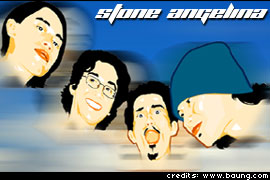 Formed in late 1999, with the help of Spunky Funggy's front man - Wolf, Stone Angelina, a local KL band, started actively performing in gigs throughout Malaysia, by catering to the Rock crazed fans out there. After numerous performances including the 'Asian Beat' ( 2nd place winner) events and countless pleas from their fans, they came up with their first demo title, Stone Angelina: The Experimental (S.T.A.T.E) in January 2000. Barely with experience under the belt, the demo that sold more than 300 copies to the masses, unexpectedly launched the band's status to super stardom.

Having claimed to produce experimental rock, which mixes other genres of Metal, Funk and Grunge, the Hard Rock music genre band agrees that they are heavily influenced by bands such as Incubus, Tool, Silverchair and a whole bunch more. Seeming to sound like Faith No More and Mr. Bungle, the 4-piece band decided to take their music career seriously by producing their debut EP album titled "Anilegna Enots EP", which was released early this year by their own independent label – Capsicum Mucispac.

After exploring various styles and possibilities, the new album shows Stone Angelina in more focused shape concentrating and improving their music capabilities. One of them is their ability to experiment and mix heavy groovy repetitive bass line tunes with their usually hard sound, showcased in the ultimate power Rock track titled "Decoder". With Funky Jamiroquai effects and a Heavy Metal intro, this hard thumping tune will sure to rock your world.

Another 'likely to grab your attention' track would be "Messiah" (or "Mess Ai Yah" pronounced in Chinese), the band's represented track. I must say, the track, sounding more experienced and matured than their earlier demo, features a couple of Metal, Funk and Grunge riffs. Expect to hear a couple of melodic Samba tunes along with gibberish Cookie Monster vocals and the ever-mysterious instrumental breaks that will leave you slightly transfixed. So for those who are normally not that much into hard sound, but like to pick out the pearls of each style, Stone Angelina's debut EP, "Anilegna Enots EP", is an excellent investment.

Confessing that they are anything but professional, Stone Angelina's front man, Zeddi insists that you check their music out and hopefully get to know them better. A couple of track samples are readily downloadable for your listening pleasure. Having said that, if you happen to enjoy their tracks and would want to rock on with the band, join them in their own organized yearly gig in KL called "Bad Hair Day".